Tropea - Stromboli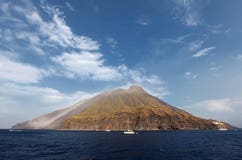 We'll set sail from Tropea's harbour and head towards the Aeolian islands on our cabin charter cruise. The harbour is situated at the foot of beautiful Tropea, a few meters from its famous beaches, 6 miles from Cape Vaticano, 27 miles from the Aeolian islands and is the perfect base to set off for the Aeolian islands. It's a modern marina offering all facilities to satisfy the most demanding sailor with a supermarket and parking lot for those who take part in sailing cruises.
Meet the skipper and attend a briefing in the early afternoon. Check in on the boat and last preparartions before setting sail towards Stromboli.
Stromboli is one of the most picturesque islands of the Aeolian archipealgo, with a smoke pinnacle often adorning its top and with the typical smell of sulfur. The quaintest area at sea is "Sciara di Fuoco" to the north-east, a mass of puring lava descending to the sea and creating a very peculiar environment, especially when sailing at night. Arrival and overnight at anchor.
saturday