Portorosa - Vulcano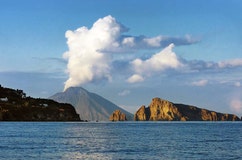 We will leave on Saturday from Portorosa in order to arrive to Gelso,in the south of Vulcano, an italian island which belongs to the archipelago of the Aeolian Islands in Sicily. Vulcano island is characterized by black beaches such as the Cannitello's beach, where we will stop in order to rest and swim for the first time of our journey.
At the end of the afternoon we will reach Levante, where you will have the possibility to have a mud bath in the hot pools of the island.
During the evening you will be free to walk around the island in order to admire its beauties.
Day 1